new website - new projects - new business
Maria Friese - felt design is now heART transformation by Maria Friese !!!
so check out my new website and my new projects and offers:
this is one of a new offer:
I offer a monthly online meeting in which we use the transformative power of felting for our own growth. My own experiences and insights in dynamic art therapy and energy work will meet here with my passion for felt art. Magic may be created!
An exciting adventure trip to unfamiliar terrain where there is so much to discover!
I draw from my many years of experience with felting and my own developed techniques for unlimited creativity, as well as the knowledge of the transformative and healing qualities of artistic processes, not least from my own experience, my trainings and from my individual accompaniments in art therapy and energy work.
The topics of the respective course will crystallize shortly before the date. I invite my participants to write their own topics. I then select the topic that can generate the most growth potential for the whole group. I fully rely on my intuition!
September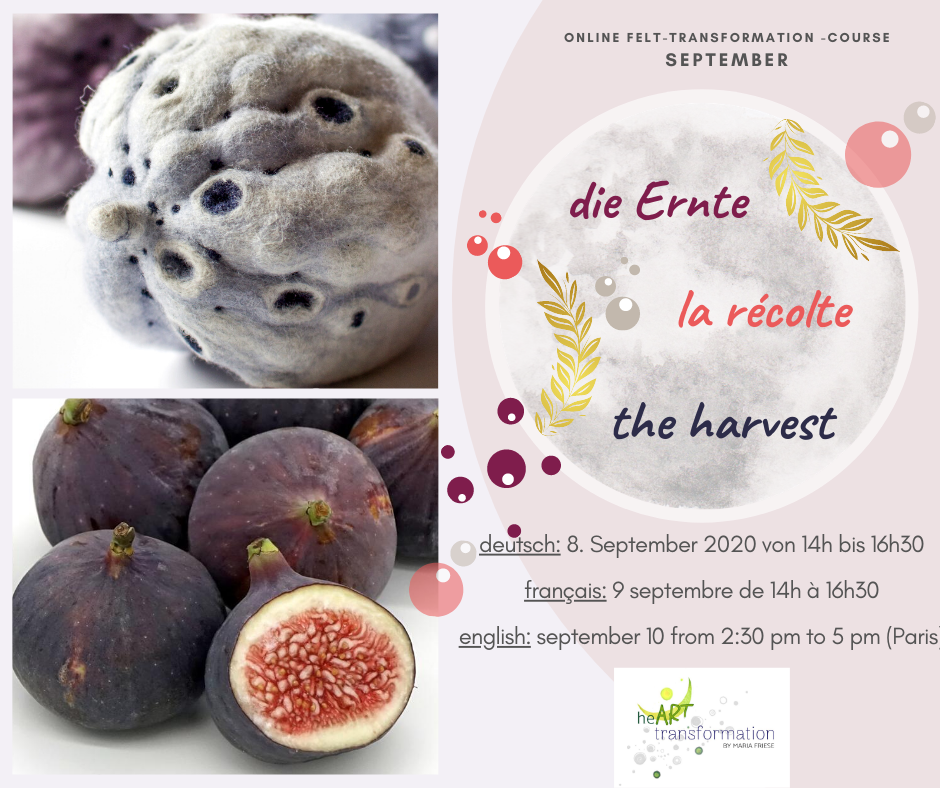 Harvest time - what have I sown? What was allowed to grow? So what do I want to harvest today? In this course we will look more deeply at the topic of our own harvest. It is also about how our thoughts shape our future and how I become magnetic for a rich harvest. Of course, again we use our creativity and hands to experience this topic artistically with our senses!

Erntezeit - was hast du ausgesät? Was durfte wachsen? Was möchtest du nun ernten? In diesem Kurs werden wir uns etwas tiefer mit dem Thema der eigenen Ernte befassen. Es geht unter anderem auch darum, wie unsere Gedanken unsere Zukunft formen und wie ich magnetisch werde für eine reiche Ernte. Natürlich nutzen wir wieder unsere Kreativität und unsere Hände, um dieses Thema künstlerisch mit den Sinnen zu erfahren!

Temps de récolte - qu'est-ce que tu as semé ? Qu'est-ce qui pouvait pousser ? Qu'est-ce que tu veux récolter aujourd'hui? Dans ce cours, nous allons regarder un peu plus en profondeur ce thème de récolte - spécialement concernant notre propre récolte. Il s'agit aussi, entre autres, de la façon dont nos pensées forment notre avenir (notre récolte) et de la façon dont on peut devenir magnétique pour une récolte riche. Bien sûr, nous utilisons à nouveau notre créativité et nos mains pour faire l'expérience artistiquement de ce thème et pour nous aider à l'intégrer en nous.
Date / Datum :
deutscher Kurs: Dienstag 8. September um 14h

cours français: mercredi 9 septembre à 14h

english course: thursday september 10 at 2.30 pm (Paris time)

english - german mixed course: saturday september 12 at 4pm (Paris time)
tickets and information here:
https://www.billetweb.fr/felt-moments-with-maria
If you want to continue to follow me, sign up for my newsletter on my new website: