My sense of art making and "soul reliefs"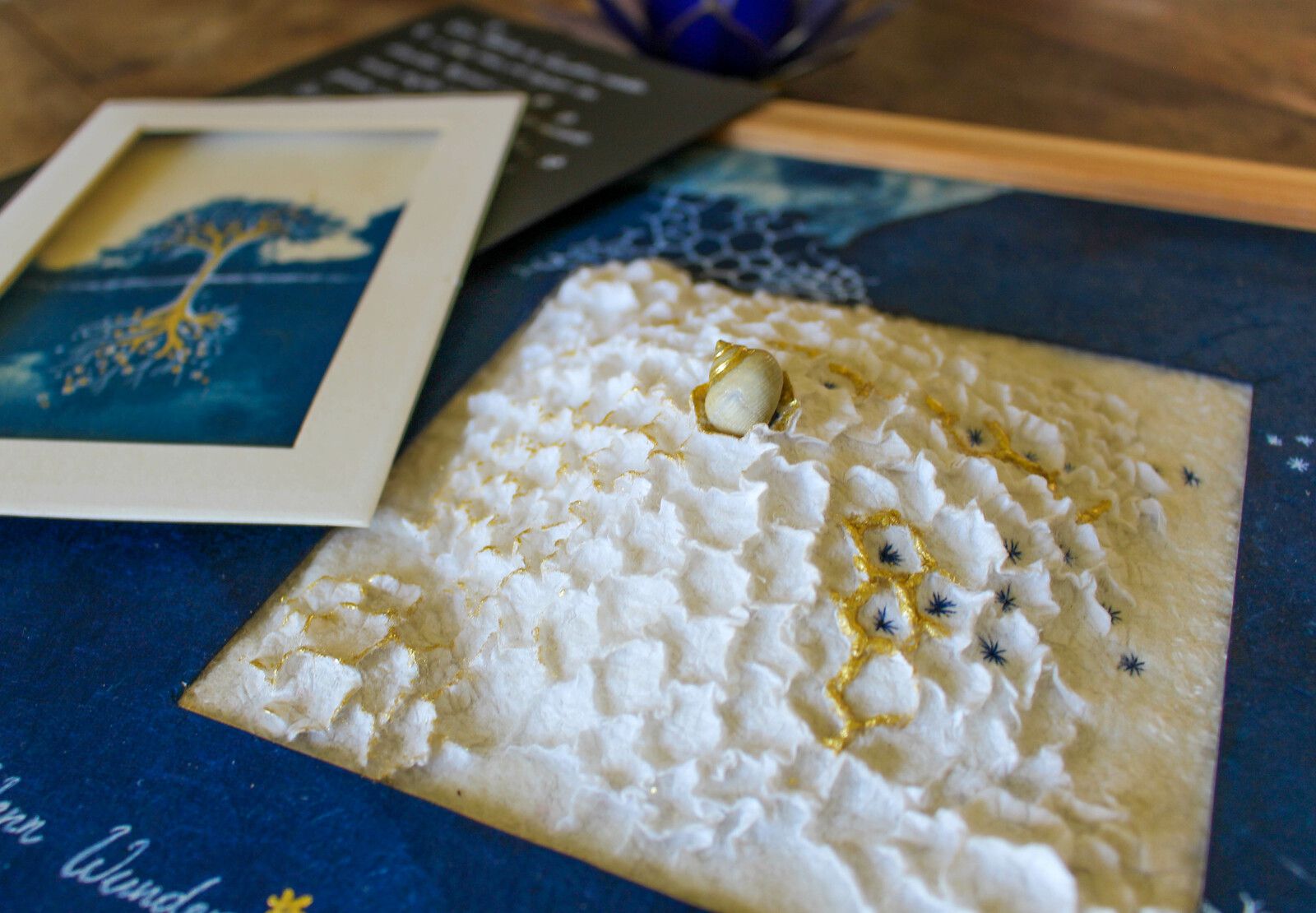 Was Kunst heute für mich bedeutet... (english version scroll down)
Die letzten Jahre erwiesen sich als Zeit intensiver Transformation meiner selbst, während denen ich die Freude und Motivation am Kreieren meiner Kunst, sowie auch am Unterrichten der Filztechniken immer mehr verlor. Der Sinn des Ganzen ging mir abhanden.
Ich spürte schon lang, dass ich einen anderen Weg einschlagen werde. Aber alles benötigt seine Zeit, um zu wachsen, um sich wie ein Puzzle Stück für Stück zusammenzusetzen damit ein Bild entsteht, welches man mit allen Sinnen erfassen kann.
Nach wie vor, und so gar noch mehr liebe ich das Zusammenarbeiten mit Menschen. Das Begleiten und Unterstützen, damit jeder seinen eigenen Weg findet, seine eigene Kreativität und sein Potenzial immer mehr und freier leben kann.
Im Laufe des letzten Jahres wurde der Sinn meiner jetzigen Arbeit, der Begleitung, sowie auch meiner Kunst, für mich immer greifbarer: alles sollte im Dienst einer höheren Kraft stehen. Ich selbst bin das Werkzeug: als Künstlerin, sowie als Begleiterin tiefer transformativer Prozesse.
In einem meiner Werke, welche ich für mich selbst gestaltete und welches gleichzeitig meinen neuen Weg in der Kunst einleitete, steckt für mich ganz klar die Nachricht: Kreation und Transformation sind tief in meiner Seele und meinen Zellen eingeschrieben. Aus bestehenden Strukturen immer wieder neues Erschaffen. Aus Zusammenfallendem Neues lebendiges und strahlendes Erschaffen. Neue nicht vorher gegangene Wege gehen, umwandeln, transformieren, kreieren.
Als Künstlerin habe ich eine Gabe mitbekommen, meinen ganz eigenen Ausdruck. Meine eigene Übersetzungssprache feinster Frequenzen welche ich empfange, übersetze, transformiere und schliesslich manifestiere.
"Soul Reliefs" entstehen in dieser Idee. Ich erhalte die Aufträge von Personen, mit welchen ich mich beim Kreationsprozess verbinde. In dieser Verbindung lausche ich, fühle, empfange, übersetze...eine Nachricht der Seele.
Kreieren in völliger Hingabe an den Prozess und im Vertrauen, dass genau das Hindurch geht, was es braucht. Diese Arbeit erfüllt mich, da meine Kunst im Dienst einer höheren Kraft steht. Einer heilenden Kraft. Ich fühle mich als Übersetzerin,Umwandlerin, eine Art Dynamo, welche die Nachrichten und Frequenzen der Seele in tiefsinnige kraftvolle Kunstwerke transformiert. Kunst welche berührt und erinnert - an den eigenen Weg, die eigene Berufung, das Heilsein der Seele.
Heute stelle ich meine Kunst, sowie meine gesamte Arbeit bewusst in den Dienst einer höheren Kraft. Kreieren in Hingabe.
Meine Kurse sind ebenfalls immer mehr darauf ausgerichtet. Ich übersetze was es in dem Moment braucht, finde die passenden Werkzeuge (Übungen), damit Kunst als Werkzeug zur Selbstheilung dient, um später vielleicht auch Kunst zu sein, welche befreit im Dienst steht und dadurch berührt und kraftvoll auf ihr Umfeld wirken kann.
Meine neuen Projekte in diesem Sinne sind:
"A course in creativity" - Ent-decke deine Schöpferkraft und entfalte dein Potenzial - Start am 11. Mai 2021
"Soul reliefs" - individuelle Kunstwerke - eine Nachricht der Seele - ab jetzt auf Bestellung
♥ Maria ♥
What art making means to me today...
The last years proved to be a time of intense transformation of myself, in which I lost the joy and motivation in creating my art, as well as in teaching felting techniques. The meaning of the whole thing got lost to me. I felt for a long time that I was going to take a different path. But everything needs time to grow, to put itself together like a puzzle, piece by piece, until the image occurs.
I still, and even more, love working with people. Accompanying and supporting, so that everyone can find its own way, live its own creativity and potentials more and more freely.
In the course of the last year, the meaning of my current work (the accompaniment, as well as my art) became more and more tangible for me: I feel creative, motivatet, joyful, when everything I do is at service of a higher force. I am the tool: as an artist, as well as in accompanying deep transformative processes.
In one of my works from december 2020, which I designed for myself and which could be seen as the entrance in my new artistic way, there is the clear message: Creation and transformation are deeply inscribed in my soul as well as in all of my cells. Creating new structures from collapsed ones. Finding new and never walked before ways, transforming and creating...
As an artist, I have received a precious gift, my very own expression. My own language, my own way of translation of the finest frequencies and messages which I receive, translate, transform and finally manifest.
"Soul reliefs" are made in this idea. I receive orders from people I connect with during the creation process. In this connection I listen, feel, receive, translate...a message of the soul.
Creating in devotion to the process. This work fulfills me deeply, because my art is at the service of a higher force. A healing force. I feel like a translator, a kind of dynamo that transforms frequencies of the soul into profound powerful works of art, which touches the soul. They are like a soft reminder of the souls beauty, the souls mission, the souls wholeness.
Today I consciously place my art, as well as all my work, at the service of this higher power. Creating in devotion to that.
Also my courses are more and more focused on this. I translate what it needs in the moment, I find supporting tools (exercices) so that the art serves as a powerful tool for self-healing; in order to eventually be able to create art that is free afterwards and in service so that it is able to powerfully affects on its environment.
Projects in this sense:
"A course in creativity" - a course to discover your creative power and unfold your potentials - english starts on august 19
"Soul reliefs" - individual art works - a message from the soul- from now on to order
♥ Maria ♥